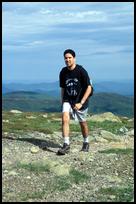 For a few months we went hiking every second weekend. This helped us getting in shape, building confidence and testing the equipment. Below is a table showing the hikes. The total for elevation can not be computed just by substracting the elevation at the start from the hight of the mountain. Many paths go up and down.
[Murti:] Aside from hiking, there are numerous other sports you can take part in that will improve your cardio and your ability to breath easily at high altitudes. Examples of these are running, swimming, cycling, fast walking on hills, etc. Perhaps one of the best indoor/gym exercise for hiking is the StairMaster. A real StairMaster (not the one with step presses), is a great exercise for hiking. Twenty minutes on StairMaster will feel like 40 minutes of running. To make the summit on Kilimanjaro, one must be in great shape with his ability to breath under low Oxygen. A good benchmark for physical fitness for Kilimanjaro is the ability to run 5+ miles/day or 40 minutes on the StairMaster.
Hiking Pictures Unfortunately I do not have pictures from all hikes.

| | | | |
| --- | --- | --- | --- |
| May 10th | Old Toll Road and White Arrow Trail | 2.30 mi | 1,565.00 ft |
| | Mt. Monadnock | | 3,165.00 ft |
| | Old Toll Road and White Arrow Trail | 2.30 mi | 1,565.00 ft |
| | Total | 4.60 mi | 1,600.00 ft |
| | | | |
| May 25th | Lonesome Lake Trail | 1.60 mi | 1,770.00 ft |
| | Fishin' Jimmy Trail | 2.00 mi | 2,740.00 ft |
| | Kinsman Junction | | 3,750.00 ft |
| | Kinsman Ridge Trail | 2.40 mi | 3,400.00 ft |
| | Lonesome Lake Trail | 2.30 mi | 1,770.00 ft |
| | Total | 8.30 mi | 2,850.00 ft |
| | | | |
| | White House Trail | 0.80 mi | 1,400.00 ft |
| June 8th | Liberty Spring Trail | 2.90 mi | 1,400.00 ft |
| | Franconia Ridge Trail | 0.30 mi | 4,260.00 ft |
| | Mt. Liberty | | 4,459.00 ft |
| | Franconia Ridge Trail | 0.30 mi | 4,260.00 ft |
| | Liberty Spring Trail | 2.90 mi | 1,400.00 ft |
| | White House Trail | 0.80 mi | 1,400.00 ft |
| | Total | 8.00 mi | 3,250.00 ft |
| | | | |
| June 21st | Crawford Path | 4.30 mi | 1,920.00 ft |
| | Mt.Eisenhower Loop | 0.40 mi | 4,425.00 ft |
| | Mt Eisenhower | | 4,760.00 ft |
| | Mt.Eisenhower Loop | 0.40 mi | 4,425.00 ft |
| | Crawford Path | 4.30 mi | 1,920.00 ft |
| | Total | 9.40 mi | 3,000.00 ft |
| | | | |
| July 4th | Hancock Notch Trail | 1.80 mi | 2,129.00 ft |
| | Cedar Brook Trail | 0.70 mi | 2,520.00 ft |
| | Hancock Loop Trail | 1.60 mi | 2,720.00 ft |
| | Mt South Hancock | | 4,319.00 ft |
| | Hancock Loop Trail | 1.40 mi | |
| | Mt. Hancock | | 4,420.00 ft |
| | Hancock Loop Trail | 1.80 mi | 2,720.00 ft |
| | Cedar Brook Trail | 0.70 mi | 2,520.00 ft |
| | Hancock Notch Trail | 1.80 mi | 2,129.00 ft |
| | Total | 9.80 mi | 2,650.00 ft |
| | | | |
| July 19th | Pinkham Notch Visitor Center | 4.20 mi | 2,032.00 ft |
| | Mt. Washington | | 6,288.00 ft |
| | Pinkham Notch Visitor Center | 4.20 mi | 2,032.00 ft |
| | Total | 8.40 mi | 4,256.00 ft |