Multiple Sclerosis Ride '01: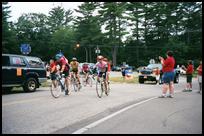 On August 11th and August 12th I was riding the Surf n' Turf bike tour, 150 miles in two days through New Hampshire. It was a benefit for the National Multiple Sclerosis Society. Check out their web-site to get more information about the research that they are funding to fight MS and about the North East Chapter of the MS Society.


Sponsors:
I want to use this place to thank all the people that sponsored me for this ride through their generous contributions and their encouragement. Their names are listed in alphabetical order.
| | |
| --- | --- |
| David Altieri | Elizabeth Kelly |
| Donal Cahalane | Rick LaRowe |
| Ram Chitturu | MaryJo Mahan |
| Ron Frechette | Steve Medin |
| Adam Garner | Laurie Sanborn |
| Kevin Gibbons | Rohda Schwarz |
| Colin Godfrey | Cathy Tulig |
| Kathy Goguen | Barry Wu |
| Sheila Hanrahan | |